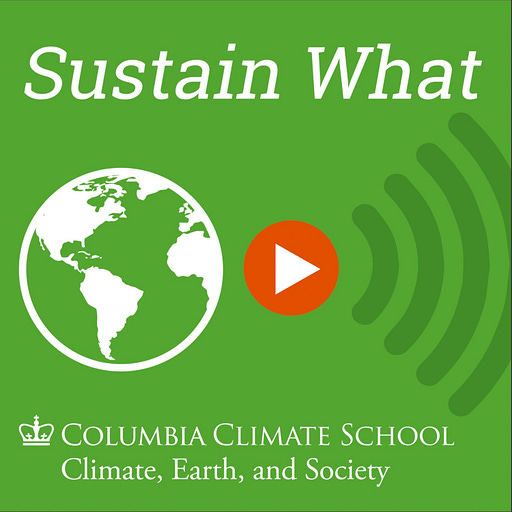 Nov 22, 2022 • 1HR 2M
Message to Musk: The Side of Twitter That Can Save Lives in Weather Emergencies Also Makes Money
We chat with Jim Moffitt, an engineer who just quit Twitter but hasn't given up on the potential for this global real-time town square to save lives and boost resilience in extreme weather events.
Sustain What? is a series of conversations, seeking solutions where complexity and consequence collide on the sustainability frontier. This program contains audio highlights from hundreds of video webcasts hosted by Andy Revkin, founder of the Columbia Climate School's Initiative for Communication and Sustainability. Dale Willman is the associate director of the initiative. Revkin and Willman believe sustainability has no meaning on its own. The first step toward success is to ask: Sustain what? How? And for whom?
Yesterday I hosted a Columbia Climate School Sustain What conversation exploring what Elon Musk's tumultuous takeover of Twitter means for the platform's capacity to save lives in emergencies like extreme storms, floods, wildfires and other environmental emergencies.
My featured guest was Jim Moffitt (@snowman), who worked in developer relations at Twitter for eight years building the capacity for the platform's vast trove of real-time data - generated through the flow of thousands of tweets a second around the world - to be harnessed by companies, journalists, researchers or government agencies through its APIs - application programming interfaces.
His prime focus, before and during his time at the company, was improving monitoring and response to extreme weather events. (He was at a smaller firm, Gnip, in Boulder, Corado, that was acquired by Twitter in 2014.)
In a tweet on November 21, Daniel K. Pearson, who runs efforts to modernize U.S. Geological Survey water management services, described just one of myriad applications of Twitter data that protect the public:
We run two real-time flood and rain accounts for @USGS on Twitter. @USGS_TexasFlood and @USGS_TexasRain are both at risk. They have been providing updates to the public since the devastating Memorial Day floods in 2015, and thru Harvey… a testament to this tech. #TwitterForGood
Moffitt quit Twitter on November 18th amid the upheaval and deep cuts initiated by Musk, but has not remotely given up on the platform's potential to build resilience in communities around the world. In our conversation, Moffitt said he does not see any alternatives emerging any time soon.
Joining the discussion was Andrea Thompson (@AndreaTWeather), the sustainability editor at Scientific American. Andrea has been covering implications of the Twitter upheaval for emergency management. Read her latest story here: Twitter Chaos Endangers Public Safety, Emergency Managers Warn.
Moffitt hopes one point registers with Musk before he does any more damage: The capacity of Twitter's open APIs to integrate the platform's massive realtime data flows with apps or analysis that can save lives also makes the company money:
It's public information, as being a formerly public company, that these end points drive, through partnerships we have with all kinds of different companies, of all different sizes nearly $400 million a year in revenue.

It's not ad revenue and it's only 10 to 15 percent of Twitter's revenue at the time. But it's very stable. It's driven by multi-year contracts. In a recession, it's not going to be affected by advertising spending going down. Our job was to go out and and work with other developers of all kinds, from academics to engineering teams at some of the biggest partners we have. But again, without that engineering engine, it was unclear to me if I would have new things to talk about.
Twitter's heart is its people
The "engineering engine" Moffitt described is people - a companywide network of coders and information architects and others that has been deeply damaged by Musk's abrupt staff cuts.
[Insert - Joe Bak-Coleman, an associate research scientist at the Craig Newmark Center for Journalism Ethics and Security at the Columbia School of Journalism, wrote an excellent Scientific American article explaining how Musk's creditable approach to building a rocket business is a bad fit for an information business.]
Moffitt said his team (most, like him, based in Boulder) had been working hard to advance an ever-widening array of ways for companies, scholars and scientists, and government agencies, to exploit the data Twitter use generates second by second in unfolding events like floods or storms. With Musk's arrival, there was the prospect for some positive outcomes, he said:
Part of me was excited about, okay, we have a new management, new ownership. They seem to have a science bent. Maybe there is going to be a room here for building more things into Twitter that would make the public's use of Twitter during emergencies even easier.
But the drastic staff cuts excised the capacity to sustain this flow of new relationships and businesses. When I asked why he quit, Moffitt gave this answer:
I hope it doesn't sound cheesy, but my eight-year tenure at Twitter was really all about my colleagues and the team we have here in Boulder…. You know, I learned that of all the engineering teams that drive the features, the products, the API, the endpoints that my team supports, about 85 percent were let go in that first round. And so it's just sort of writing on the wall that without those teams building the things that I go out and talk about, that I sit down and document, that I wasn't sure of the future I would have or my team would have in that type of environment. That's really the main reason.
Nothing like Twitter
Andrea Thompson said that people working in a wide range of positions in emergency preparedness and response had a uniform sense of concern:
Every every one I talked to said, you know, there is nothing like Twitter. It is it has become, for better or worse, integrated into the way we communicate with the public in these situations.
Moffitt added that there's still enormous potential for this capacity of Twitter to be employed at every level of government [I've streamlined the language here a bit]:
A small emergency management office in some county somewhere could work with partners that made their software platforms available at nonprofit-type pricing. I always kind of joke, if you hired a computer science intern for a summer, at the end of that summer, they could have built you a really useful tool for not only listening for local tweets of interest, but for automating whatever software you're using for your monitoring system.

I was planning on setting up a sort of hands-on coding workshop where you bring the computer language of your choice. And we'll sit down and and show the basics of these two things, the listening side and the publishing side. So maybe there's opportunities to still do that down the road. I do think the Twitter API was very accessible. It was free to academics. It was free as long as you're not pulling in more than a half a million tweets a month, which for a local area would be an extremely amount of tweets around any flooding or hurricanes. So we had a lot of unique characteristics that really is a low barrier to entry
I said I'd be happy to explore how my communication initiative at Columbia might help.
A key to Twitter's unique value and growth, he said, remains the open interfaces that allow users to seek patterns in the flow and put them to use.
I can't believe the APIs themselves would be let go. Again, they drive some significant revenue and they really help expand the reach of Twitter. With this toolkit, you can build all kinds of amazing things…. The use cases are endless, and these APIs just represent the basic building blocks of building these types of things. What I love about Twitter is, whatever interest you have or community you want to build, you know, it can be a really useful tool. Mine was flood warning. I jumped in and was like, oh, of course Twitter is a tool for this.
We explored whether any tool might emerge that has this global-to-local sensory-system capacity and is insulated from the whims of a billionaire owner. Having written about the metaphor of cathedral building in pondering sustainability, I offered a quirky thought, noting that Jimmy Wales of Wikipedia fame has poked into the social media arena with WT Social (Wiki Tribune Social). Listen here and tell me what you think:
You listen as a podcast or watch this Columbia Climate School Sustain What conversation here: Can the Public Value of Twitter be Sustained There or Replicated Elsewhere?
There's a rough Trint transcription of our conversation here. If more folks choose a paid subscription to Sustain What, I can ponder hiring someone to turn around smooth transcripts!
To support my work, consider becoming a paid subscriber.
There's lots more background, including links Moffitt assembled to an amazing set of posts on Twitter's use in emergencies, in my previous post here: