The U.S. Uses a Trade Pact to Press Mexico to Save the Vaquita Porpoise from Deadly Nets. Now Where's China?
This is an encouraging step, but China must act to stem surging criminal activity meshing illegal fish trade, money laundering and drug cartels

Please SUBSCRIBE to receive my posts by email (content always free to exclude no one).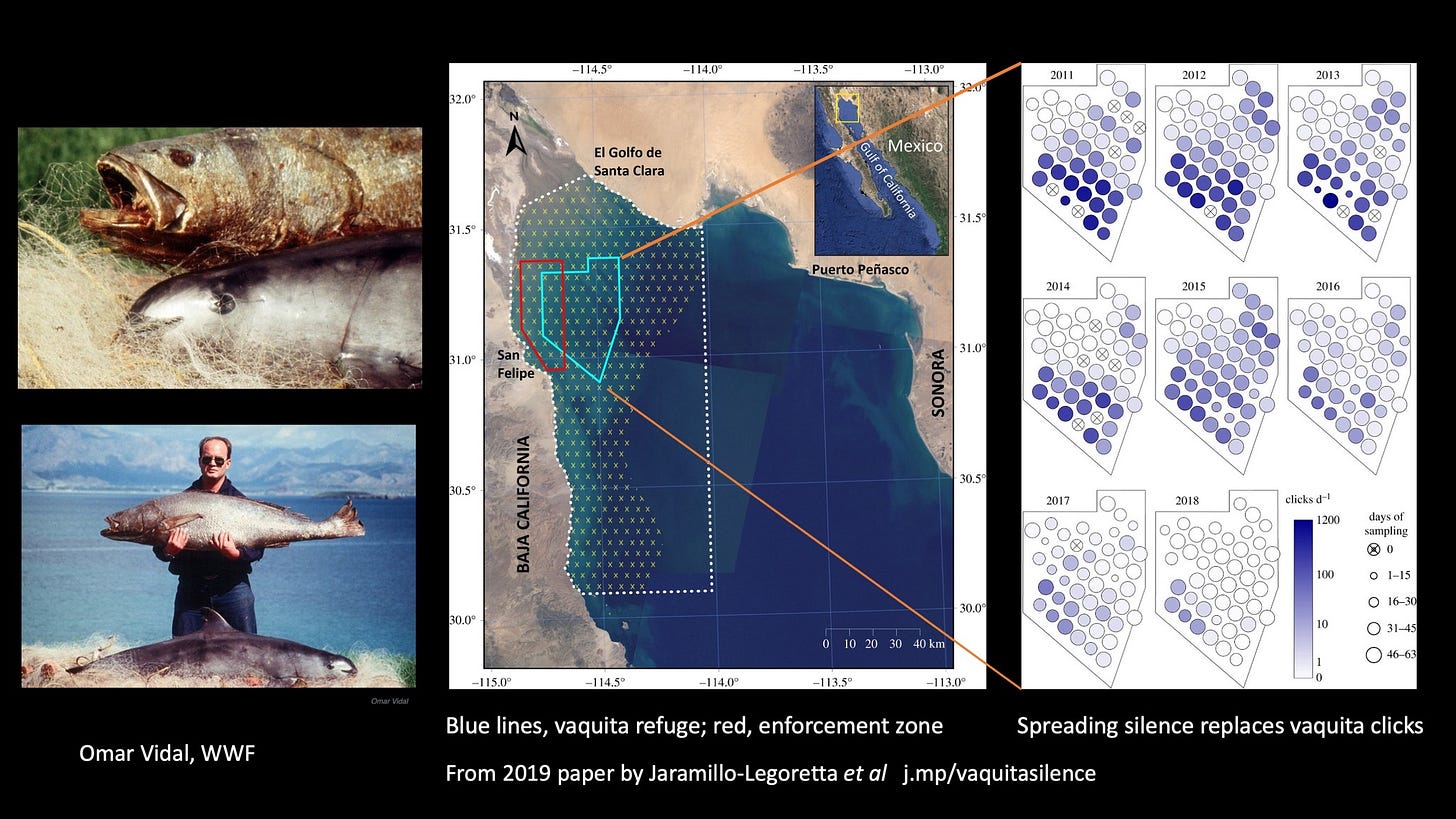 Late last week, the Biden administration took a fresh step aimed at jogging Mexico finally to protect the handful of vaquita porpoises still alive on this planet after two decades of accelerating losses of the world's tiniest cetacean in a drowning maze of illegal gill nets set in the species' last refuge.
But if China doesn't get involved, it's almost assuredly still game over for the world's most endangered marine mammal.
The situation is particularly excruciating because the vaquita population, while down to perhaps seven individuals, is still viable, according to biologists. But reproduction simply can't keep up with drownings until the nets are removed.
Here's what's happening.
A threat of sanctions
On Thursday, the Biden administration formally registered concerns that a lack of enforcement of Mexico's fishery and conservation laws was wiping out the vaquita by fueling China-bound smuggling of the swim bladder of the totoaba. This fish species, also now endangered, shares the porpoise's cul-de-sac range in the north end of the Gulf of California. Within hours, Mexico agreed to discuss the matter.

Illegal Chinese markets for the dried swim bladder of the endangered totoaba have driven rampant illegal fishing that is also drowning vaquita porpoises.
The U.S. move came through the first use of an environmental enforcement provision of the 2020 trade agreement between the United States, Mexico and Canada. In filing a request for "environment consultations," the Office of the United States Trade Representative set in motion a process that could result in trade sanctions against Mexico within a few months.
Mexico's seafood industry is already enduring costly U.S. sanctions for the country's failure to protect the vaquita and endangered sea turtles. But so far none of this seems to have swayed populist President Andrés Manuel López Obrador.
The situation is dire. As I've reported twice here, Baja California fishing fleets seeking shrimp and the protected totoaba have brazenly continued to set dozens of deadly gill nets in the vaquita's last refuge - an area that Mexico, so far in name only, deems a "zero tolerance" no-fishing zone.
Navy patrols, as The New York Times and others reported recently, have routinely ignored this deadly trespassing. As the chief of public affairs for the Mexican navy, Rear Adm. José H. Orozco Tocaven, told The Times, "We are trying to avoid confrontation."
In a statement after the U.S. move, Mexico's Ministry of the Economy said it would coordinate with relevant agencies of both governments with the goal of "timely presenting the efforts and measures adopted to protect marine species in national waters."
This first step toward trade-pact sanctions began last August as four environmental organizations filed a lengthy complaint with the U.S. trade representative arguing that Mexico was egregiously violating the pact's terms by ignoring its own laws.
I reached out to representatives of some of those groups for reactions to the week's development. Given the dynamics on the ground in the region imperiling the vaquita, where cartels involved in both totoaba smuggling and much bigger drug operations have substantial influence, I asked if there's a risk that a U.S. trade move on could simply energize resistance?
This happened in Japan, for instance, as nationalist elements exploited external pressure against whaling and dolphin slaughters following the success of the Animal Planet TV series "Whale Wars" and the Oscar-winning 2009 investigative film "The Cove." (Keep in mind Japan resumed commercial whaling in 2019 and is still at it.)
Sarah Uhlemann, the international program director of the Center for Biological Diversity, replied by email: "Speaking for the Center, I do believe international trade pressure is critical here. Scientists, NGOs, funders, and the U.S. government have spent decades trying to convince the Mexican government to finally crack down on illegal fishing in the area. But the government has continually broken their promises, and there aren't many avenues left. At some point, money matters. The Mexican government made commitments under the USMCA [the trade agreement], and President López Obrador shouldn't be surprised that the U.S. government is enforcing them, given his general disregard for illegal fishing and environmental issues."
Read the Center for Biological Diversity release for more.
In the same email thread, Zak Smith, a senior attorney at the Natural Resources Defense Council, built on her points:
"I agree with Sarah. With ten vaquita left, we need to use every tool available to save this species and take similar actions to counter the biodiversity crisis. That's our goal. Not every tool is perfect, as demonstrated by the near decade our organizations have been working on this issue, while the vaquita has still declined. The USMCA provides another opportunity to bring Mexico to the table and we hope it works. While we should be cognizant of the risks, we can't stop fighting for this species."
The China dimension
But that brings us to the China dimension in the vaquita's plight, which goes far beyond the black-market trade in dried swim bladder.
Vanda Felbab-Brown, who focuses on wildlife crime, non-state armed actors and related issues as a senior fellow at the Brookings Institution, just wrote a distressing column for Mexico Today outlining a forthcoming Brookings report laying out how "Chinese actors and markets are thickly intertwined in Mexico's illegal economies, such as drug and wildlife trafficking and money laundering."
Read every word, but here are some highlights: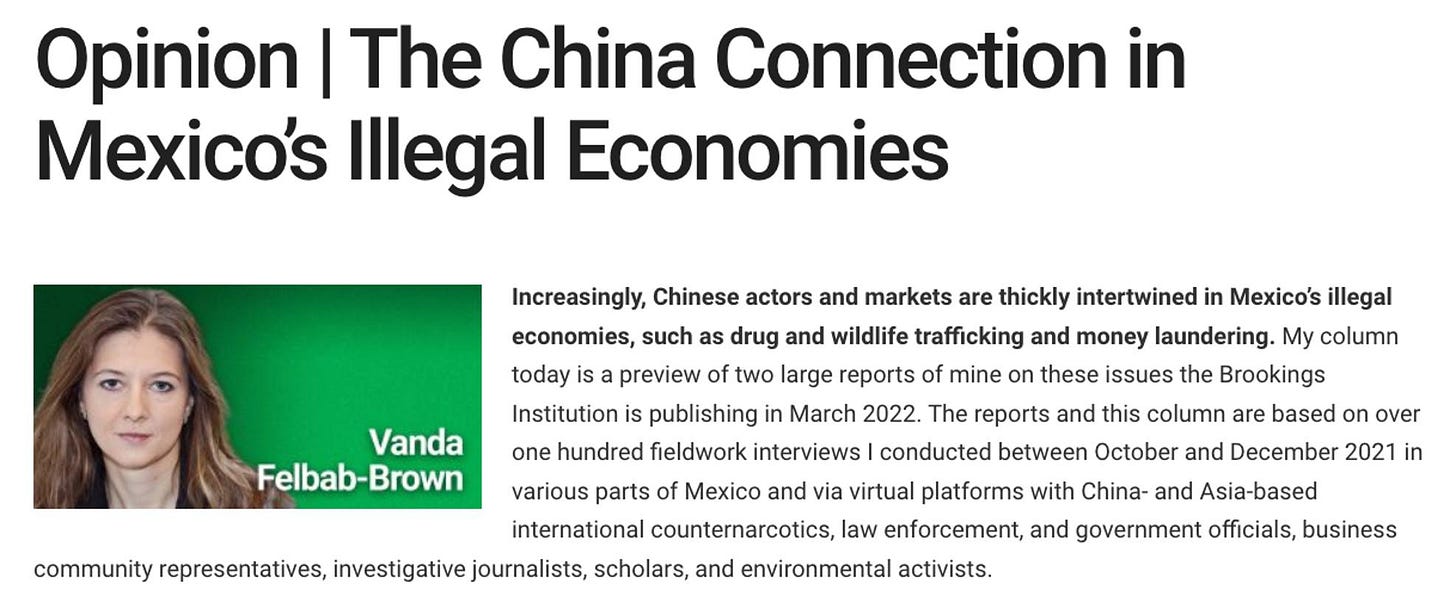 For those hoping to give the vaquita (and other threatened Mexican wildlife) a final chance, this report is devastating. Felbab-Brown, drawing on dozens of interviews in visits to Mexico from last October through December, lays out several troubling trends.
China is the dominant source of precursor chemicals for Mexican criminal groups that cook fentanyl and methamphetamine bound for the United States and elsewhere.

Chinese money traders and businesses also increasingly launder money for Mexican cartels and wildlife products are one currency. More and more, she writes, "[V]arious animal and timber products are used by the cartels to pay for drug precursors. The huge markups that wildlife products register between harvest and retail make them an ideal tool of money laundering and value transfer." One of those products is dried totoaba swim bladder.

While the value of wildlife contraband is tiny compared to the drug-production pipeline, she warned that "the increasing role of this payment method can devastate biodiversity in Mexico, as the cartels seek to legally and illegally harvest more and more of a wider and wider range of animal and plant species to pay for precursors."

Felbab-Brown also describes how organized crime groups, especially the Sinaloa Cartel, are seeking to monopolize both legal and illegal fisheries along the entire vertical supply chain.
I asked Felbab-Brown for her view of the new Biden administration move under the trade pact in the context of her upcoming report.
"The López Obrador administration exhibits little interest in wanting to protect the vaquita," she replied. "Its primary preoccupation is to avoid any kind of confrontation with totoaba poachers, who are significant segments of communities in the Gulf of California. Both the López Obrador administration and the poachers have not exhibited interest in finding a way to protect the vaquita and there is essentially no law enforcement of regulations even in and around the vaquita range. U.S. economic actions, such as sanctions against fishing that violates regulations, and ban on seafood imports from Mexico, are just about the only tools left to stimulate any kind of political will in the Mexican government to start meaningfully enforcing its regulations."
My take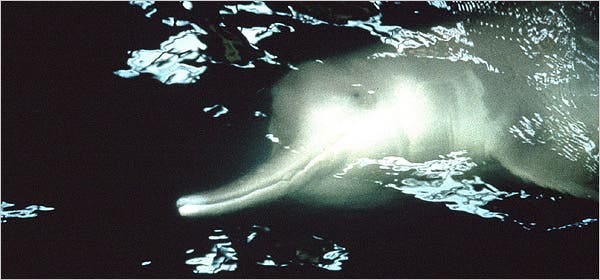 The bajii, or Yangtze River dolphin, was declared extinct in 2006. Reports of subsequent sightings so far have not held up. (photo, baiji.org)
I can't mask a deep, sad sense that it's too late - that this tiny porpoise with the appealing dark ring around its eye is poised to join the baiji, the Yangtze River dolphin - another cul-de-sac marine mammal that simply wasn't able to coexist with human affairs. Read my 2006 New York Times story "20 Million Years and a Farewell."
But I'm still where I was last August, when I closed out my first Sustain What column on the vaquita with this hopeful vision of what the waters off the Mexican coast in the northern Gulf of California might look like, and sound like, if Mexico puts force in the phrase "zero tolerance":
I'd love to think that in a few decades, the waters around the refuge will fill with the echolocation chirps of a growing porpoise population. Click below to hear what a vaquita "hot spot" sounded like in 2008, when scientists estimated there were 245 animals.
Without action now, the alternative is silence.
Here's the sound:
Click here to explore my past New York Times coverage of the challenges in vaquita conservation, with a growing focus on China.
Here's my interview last summer with Vanda Felbab-Brown of the Brookings Institution:
Help build Sustain What
Any new column needs the help of existing readers. Tell friends what I'm up to by sending an email here or forwarding this introductory post.
Thanks for commenting below or on Facebook.
Subscribe here free of charge if you haven't already.
Send me feedback (including corrections!), tips, ideas here.
Find my social media accounts, books and music in a click here. And please share Sustain What with solution-focused friends and colleagues!