A Shortage of Small Caskets
As families grieve and bury 19 children and two teachers slain in Texas, I find myself recalling a vista in the Brazilian Amazon in 1989 (headline updated*).

This is an unimaginable time in and around Uvalde, Texas, as it has been in a lengthening line of American communities burying loved ones after mass shootings - with the slaying of school children the ultimate horror.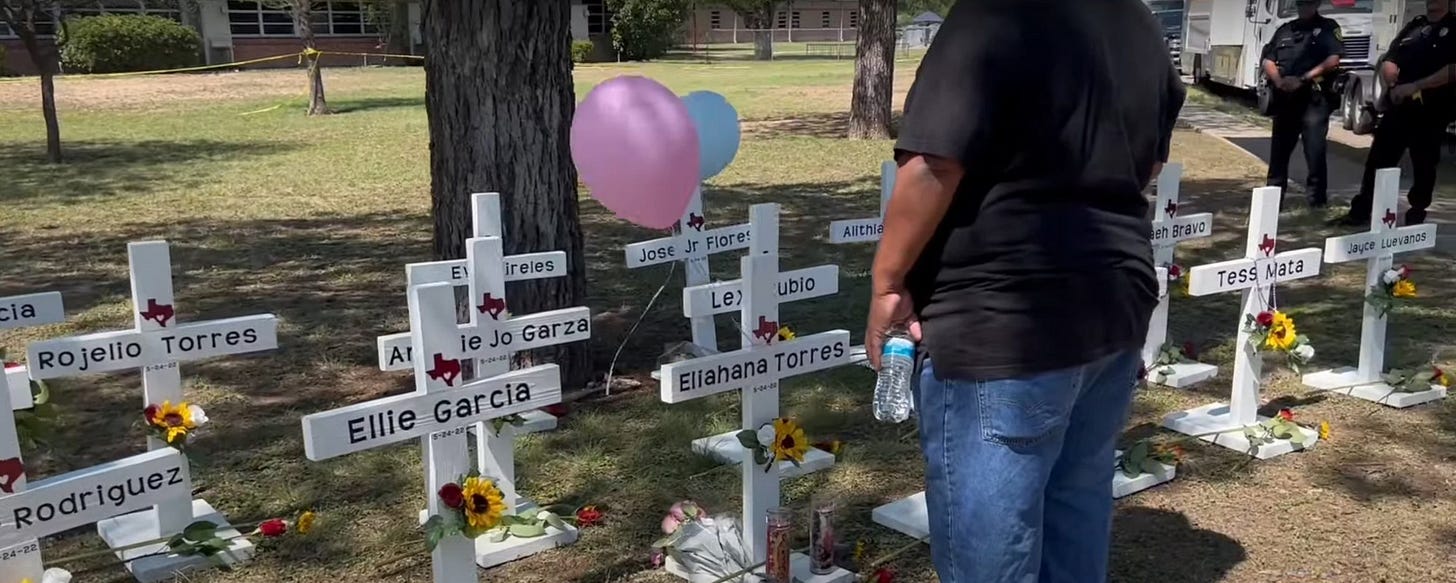 A memorial set up outside Robb Elementary School (Voice of America)
Updated June 5 | The funeral of 10-year-old Amerie Jo Garza on Tuesday, May 31, marked just the start of what will be "a procession of grief that will stretch across two weeks," as Alexa Ura wrote in the Texas Tribune.
I have no illusions that anything I write will change the broken dynamic in the United States around firearms and the path to a safer society and schools.
But I have to mark this moment.
Like all of you, I'm heartsick. Among countless dark details, the shortage of small caskets in Uvalde broke me, and the unpaid nonstop work of a family business making custom caskets for the 19 children heartened me.
There's nothing more haunting to any parent, or person with a heartbeat, than seeing coffins or caskets in child sizes. The first time I experienced that feeling was in 1989, when I was a couple of months into reporting The Burning Season, my book on violence against forest-dwelling communities in the Amazon rain forest in Brazil, and against the forest itself.
In Manaus, already a city of close to a million back then, I walked down a block of open-air shops and faced the vista you can see in the banner photo and here - a wall of full-size coffins and a nested-doll array.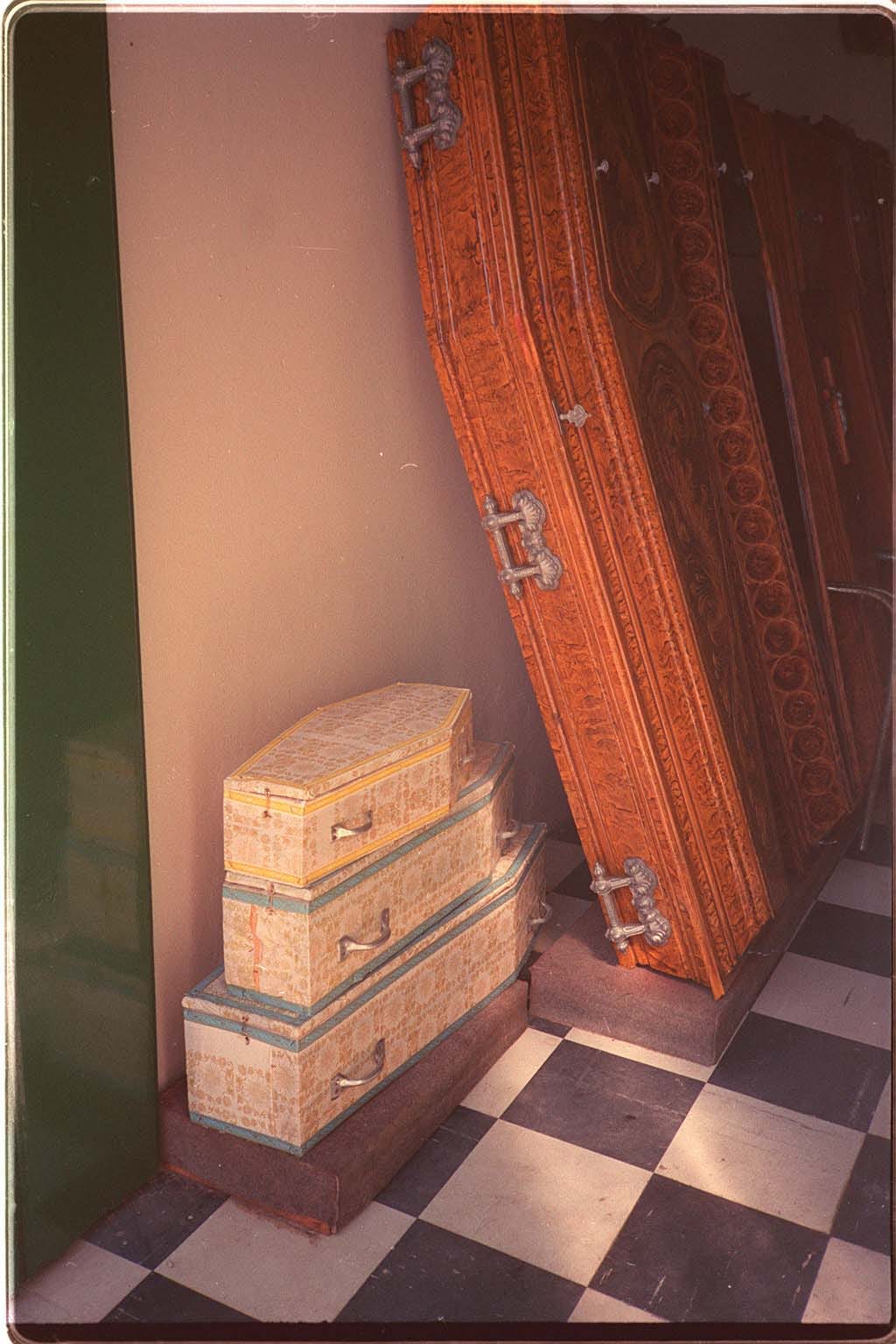 The image synced with the story told by a woman I'd met in a rubber-tapping family's compound deep in the forest along the Jurua River in the western state of Acre. I'd asked her how many children she had. She said 17, and - without a hint of emotion, with a simple bit of math - flatly said 11 were alive.
I checked Unicef's website and see that Brazil's death rate for children under five has thankfully plummeted.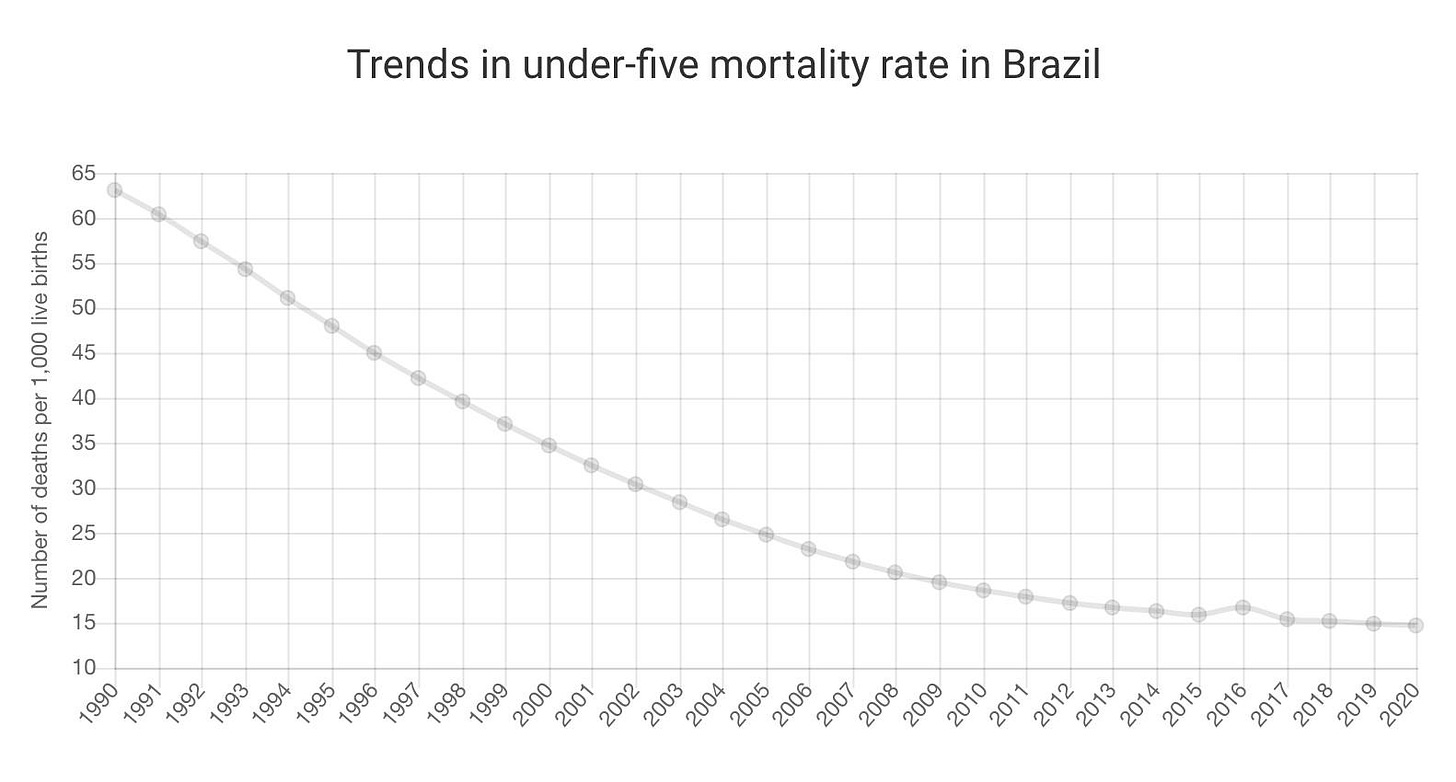 I'd love to think that if I visit Manaus again someday, funeral parlor owners will speak of fading memories of stocking child coffins (although COVID-19 was a fresh jolt).
And here in the United States, I hope that children alive today will see, and build (with our help), a future in which mass shootings are more a dark historical artifact than a present-day possibility.
But there is a very long journey ahead.
The fractures are deep.
And the cat is way out of the bag.
The proportion of American households with a gun has remained fairly steady in recent decades, according to Gallup.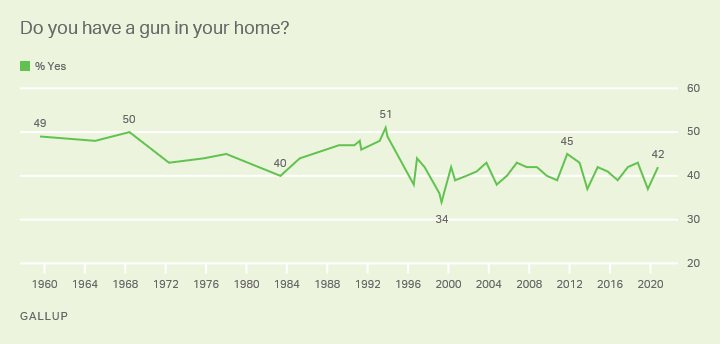 But the number of guns in the country has exploded, to 450 million, as the University of Colorado political scientist Roger A. Pielke, Jr., posted and tweeted on May 21, with this headline: "The Absolutely Ridiculous Number of Guns in the United States" and this graphic: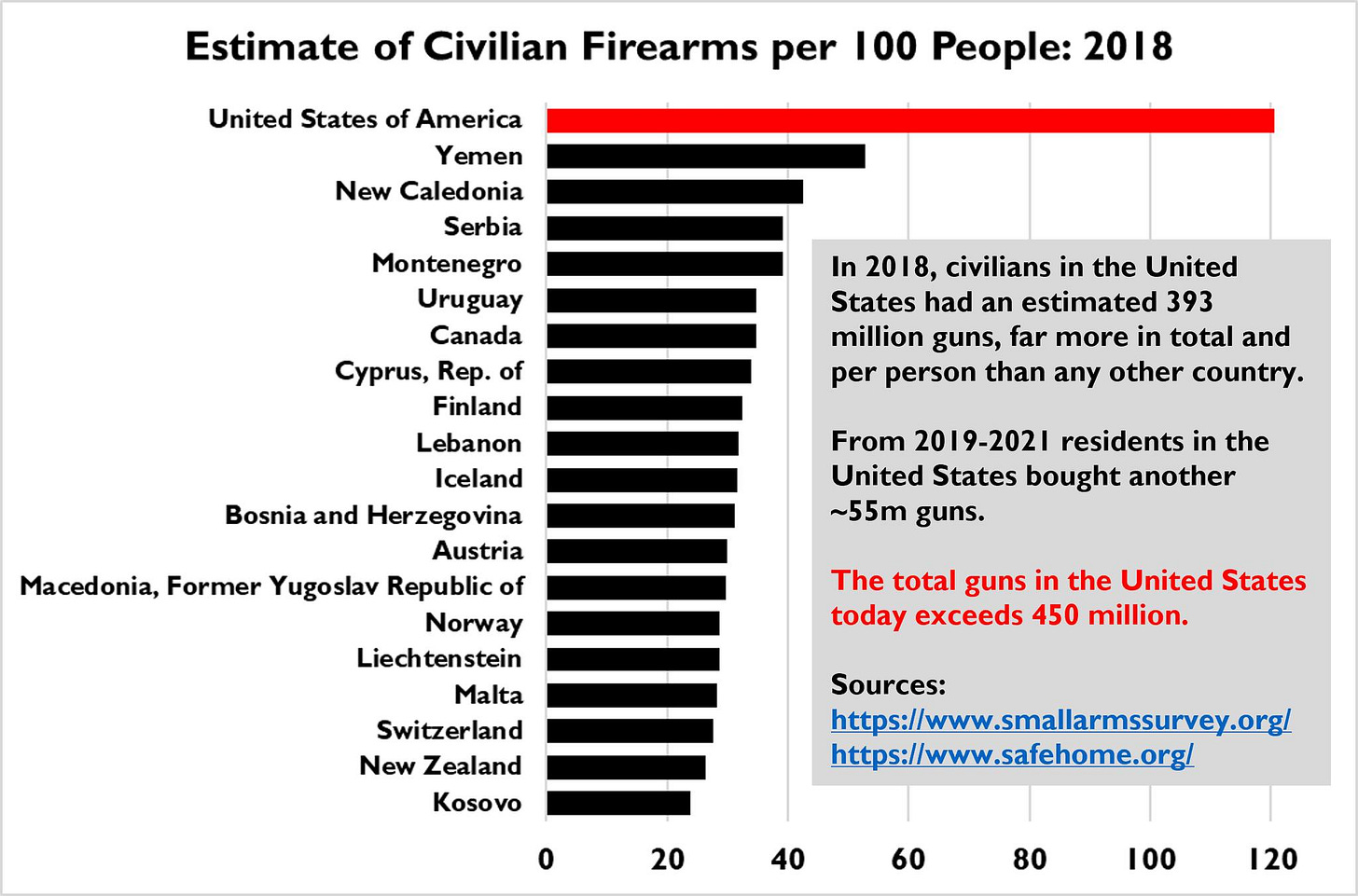 Data compiled and graphed by Roger A. Pielke, Jr.
"The figure above shows that the United States in 2018 had more than 120 guns for every 100 people, totaling almost 400 million guns," he wrote. "The United States is a considerable outlier in global context. Since 2018, Americans have bought about 55 million more guns, bringing the national armory to about 450 million guns. (Sources: Here and here). The ubiquity of guns in the United States represent a failure of American society and indicative of deep policy failure. Much harm has resulted."
I'm sure you've noticed that was three days before the Uvalde massacre.
After the catastrophe, among hundreds of analysts weighing in, Pielke posted anew, proposing that President Joe Biden convene a bipartisan commission on gun violence and that Congress should fill the profound gap in relevant science and analysis identified by the RAND Corporation in 2020 in "The Science of Gun Policy."
Pielke highlighted this finding, which excruciatingly reveals how much has to be done before America can even begin to navigate meaningfully toward effective gun policy:
Of more than 200 combinations of policies and outcomes, we found that surprisingly few were the subject of methodologically rigorous investigation . . . The lack of research on a wide range of outcomes makes it difficult or impossible to conduct a comprehensive cost-benefit analysis of the gun policies.
It's not a total black hole of course. The data-driven policy analyst Matty Yglesias helpfully reminded us how anomalous this mass shooting was:
"[A]ccording to Pew and the FBI it is extremely rare for a person to be killed by an assault rifle:
In 2020, handguns were involved in 59% of the 13,620 U.S. gun murders and non-negligent manslaughters for which data is available, according to the FBI. Rifles – the category that includes guns sometimes referred to as "assault weapons" – were involved in 3% of firearm murders. Shotguns were involved in 1%. The remainder of gun homicides and non-negligent manslaughters (36%) involved other kinds of firearms or those classified as "type not stated."
So, again, the shock and horror of the Texas shooting are very real and very understandable. But if your goal is to stop people from being shot and killed, preventing people from buying semi-automatic long guns is a very low-efficacy way to do that. And if your goal is to reduce the genuinely very large number of people who are shot and killed in routine crime involving small, easily concealed handguns, then highly emotional, highly moralistic outbursts following edge case spree killings seem unnecessary.
One thing is clear. Facing an issue with this scale, as with the climate and clean-energy challenge, there's work to be done on every level, using every tool - from infographics to activism, technology to training, and, yes, basic research and policy innovation.
And this challenge, like the climate challenge, will require both urgency and, somehow, patience.
The editorial board of the San Diego Union-Tribune produced a deeply sobering animation of names of those killed in school shootings since the horror of Columbine High School in Colorado in 1999. You can watch the visual unfurl in this tweet:
As the editors wrote, "At the time, it was the deadliest high school shooting — and one of the worst mass shootings — in modern U.S. history. Now it's not even one of the 10 worst — and students and adults are still dying on our country's campuses."
It took me a moment to notice it was produced in April 2018.
Can there be a movement led by children like that of the survivors of the 2018 Parkland, Florida, high school slaughter that year, but with sustained, national action?
Insert, June 1 | David Hogg, a survivor of that rampage at Marjory Stoneman Douglas High School in Parkland, is in fact a leader of the national March for Our Lives organization, which is holding a Washington rally on June 11 (with satellite demonstrations everywhere). He just retweeted a chilling 2019 video call to action in which a girl briefs a group of grownups on how to survive an active shooter incident.
Last weekend I'd mused on whether there could be impact from a million-student march, encircling, rather than storming, the Capitol.
Maybe there will be.
Here's a taste from May 31 in Minneapolis:
Gal Beckerman, the books editor at The Atlantic, just pushed the case for spending the summer organizing a fall campaign focused on jolting lawmakers into action.
I reached out for a reaction from Dana R. Fisher, a sociologist at the University of Maryland who has literally written the book on progressive campaigns - American Resistance: from the Women's March to the Blue Wave. "Unless it's sustained disruption, it won't work," she said.
Fisher proposed that her recent paper in the journal Climate Action laying out what it will take to have a suitably large-scale "risk pivot" applies to gun violence as well as climate.
Have a look and let me know what you think.
And help the families of Uvalde.
The Texas Tribune posted a helpful array of options, including these:
Crowdfunding platform GoFundMe set up a page with verified fundraisers put together by family members of shooting victims and nonprofit organizations.

The Uvalde Consolidated Independent School District created a bank account at First State Bank of Uvalde where people can send funds to shooting victims and their families.

Funds can be sent electronically through Zelle using the email robbschoolmemorialfund@gmail.com or through the mail to 200 E. Nopal St., Uvalde, Texas 78801. Make checks payable to the "Robb School Memorial Fund."
Postscript June 5
Several comment contributors appropriately criticized my original headline (Funeral Parlors Should Never Be Like Coffee Shops - With Wares in All Sizes) for being deeply insensitive to the feelings of families who've lost children and the funeral home operators who help families navigate the most profound loss there is. I apologize.
Help broaden this Sustain What community
Thanks for reading. I need your help. Tell friends what I'm up to by forwarding this introductory post or sending an email here (substitute the addresses you're sending to for the dummy "revkin.revkin" address there).
Thanks for commenting below or on Facebook.
Subscribe here free of charge if you haven't already.
Send me feedback (including corrections!), tips, ideas here.
Find my social media accounts, books and music in a click here. And please share Sustain What with solution-focused friends and colleagues.